Recent Artists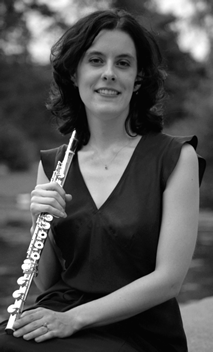 Bonnie L. Cochran, Flute - has performed concerts in Washington D.C., Nashville, Atlanta and throughout New England. She has a passion for chamber music and connecting with audiences and performs with Amaryllis Chamber Ensemble, Cochran-Wrenn Flute and Guitar Duo and formerly with Willow Flute Ensemble. She also enjoys performing in orchestras and musical theater productions.

Bonnie was a 2004 winner of the National Flute Association's Convention Performer Competition, where she performed the newly rediscovered CPE Bach Concerto in D Major. She has also been honored to perform at other NFA Flute Conventions, the Ogunquit Chamber Music Festival, First Night Boston and First Night Worcester.

In December 2005, Bonnie released her first CD, Song and Dance, a collection of flute music, including several of her original compositions. She is joined by harpist Sarah Anne Manning for several selections on this CD. Bonnie can also be heard on the Willow Flute Ensemble CD, which was released in 2000.

Her primary teachers have included Linda Toote, Elinor Preble and Paul Brittan, and she has performed in master classes with Keith Underwood, Susan Glaser, Paul Edmund-Davies and Laura Barron. Bonnie holds a MM in Flute Performance from The Boston Conservatory and BA's in Music and Religious Studies from Agnes Scott College.

In addition to performing, Bonnie teaches private flute lessons and enjoys composing music. Bonnie's compositions have been performed on numerous concerts across the United States, including performances at Weill Recital Hall at Carnegie Hall (2005), the Greater Boston Flute Association Flute Fair (2002), Washington State Capitol (2008), Massachusetts Institute of Technology, Harvard University, The Boston Conservatory and Agnes Scott College. In addition, her arrangement of Silent Night can be heard on Harpist Sarah Anne Manning's Winter Wonderland CD.
Kris Lucander, Double Bass
Erin Asbury Simmons, Clarinet
Sally VanderPloeg, Piano
Kai-Ching Chang, Piano
Piper Runnion-Bareford, Harp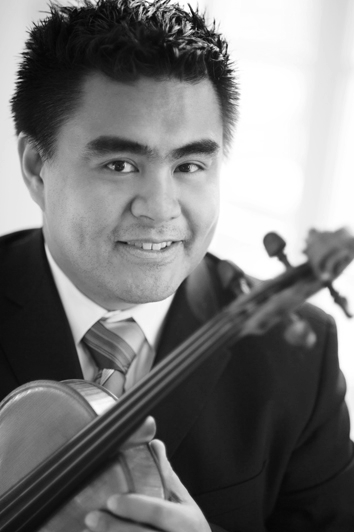 Daniel Doña, Viola - has distinguished himself as an active performer and pedagogue. Dr. Doña is on the faculty of Boston University, where he serves as Assistant Chair of the String Department, Coordinator of String Chamber Music, and Lecturer of String Pedagogy and String Literature. He has presented guest masterclasses at the University of Connecticut, Northwestern University Music Academy, Vianden International Music Festival, and Miami University. Daniel has collaborated with Tony Arnold, Andres Diaz, Barry Shiffman, and Gilad Karni, and his performances have been broadcast on CBC Radio 2 and WCLV. Dr. Doña is violist of the prizewinning Arneis Quartet.

Daniel pursues interdisciplinary projects with a passion; as a member of the Banff Festival Quartet he performed in collaboration with dancers, presenting Hans van Manen?s Grosse Fuge and a world premiere of Heather Myers?s Dedications. He has coached with members of the Muir, Juilliard, Brentano, Emerson, and St. Lawrence string quartets, as well as Donald Weilerstein, Henk Guittart, Raphael Hillyer, Leonard Matczynski, and Alasdair Tait. Daniel has also had the opportunity to play in solo masterclasses for such violists as Kim Kashkashian, Karen Tuttle, Martha Strongin Katz, Roberto Diaz and Roger Tapping. An enthusiastic advocate of new music, he has commissioned and premiered works by Aaron Travers and Orianna Webb. He has attended programs at the Banff Centre, Juilliard Quartet Seminar, Deer Valley Music Festival, Apple Hill Center for Chamber Music, Vianden Music Festival and ENCORE School for Strings.

Dr. Doña received his AB in Philosophy from the University of Chicago, where he was awarded the inaugural David Fulton Award for excellence in instrumental performance. He received his MM in Viola Performance from the University of Oklahoma where he studied with Matthew Dane (viola) and Felicia Moye (violin). At Boston University he studied with Michelle LaCourse, Steven Ansell and Edward Gazouleas. He received his PD and DMA from BU and was a two-time recipient of the String Department Award.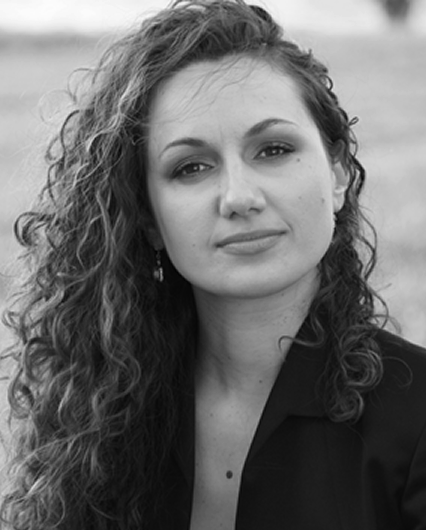 Ina Zdorovetchi, Harp - Hailed as "hypnotizing", Ina Zdorovetchi has established a reputation as one of the leading harpists of her generation, having performed as soloist with orchestras in Europe, North America and the Middle East, as recitalist in Carnegie Hall, Jordan Hall, World Harp Congress, American Harp Society National Conference and as recording artist for SONY, Naxos, Albany Records, WGBH Radio-Boston, Israeli Broadcasting Authority and Moldova National TV.

Ina Zdorovetchi is the recipient of a number of awards, including Second Prize (Ist Prize not awarded), Chamber Music Prize and Propes Prize at the 17th International Harp Contest in Israel, First Prize at the Bucharest International Competition, Second Prize at the Paris International Harp Competition, "Outstanding Achievement in Chamber Music" Award from the Fischoff National Competition, "Henry Cabot Award for extraordinary commitment of talent" from the Boston Symphony Orchestra Players Committee and other honors.

Her debut solo album "Un Sospiro", released in 2010, demonstrates her interest in both original works and transcriptions and celebrates composers past and contemporary. Additionally, she has recorded solo, chamber music and orchestral repertoire for Sony, Naxos, Albany Records, BMOP/Sound, Boston Symphony, and has sustained live concertos, recitals, interviews and broadcasts on WGBH Radio-Boston, Israel Broadcasting Authority and Moldova National TV.

Currently, Ina Zdorovetchi is the principal harpist with Boston Lyric Opera, Boston Pops Esplanade Orchestra, Opera Boston, Boston Modern Orchestra Project and is on the faculty at Boston Conservatory, Wellesley College and New England Conservatory Pre-College. Her students have been featured in performances at the World Harp Congress and won several top competition prizes. Other teaching engagements include invitations to Brevard, Vianden and Saarburg International Festivals, masterclasses at Indiana University (South Bend), Chapman University (CA), American Harp Society Chapters in Washington (DC). Syracuse (NY), Los Angeles (CA) and Bolivar Youth Orchestra of Venezuela. Additionallty, she is the founder and artistic director the Boston Harp Festival, an elected member of Pi Kappa Lambda - The National Music Honor Society, and past-president of the American Harp Society Boston Chapter.

Ina Zdorovetchi holds degrees from New England Conservatory (Performance Diploma), Boston University (Master of Music), The Boston Conservatory (Bachelor of Music, Summa Cum Laude) and is an alumna of the Tanglewood Music Center (2003 and 2004). Prior to moving to the USA, she studied at Bucharest Academy of Music (Romania), and "C. Porumbescu" Lyceum of Music in her native Chisinau, Moldova, completing a double major in piano and harp. She studied under the tutelage of harpists Ann Hobson Pilot, Cynthia Price-Glynn, Ion Ivan-Roncea and Ana Mahonina and, for 10 years, was mentored by the great piano professor Larisa Jar.



Erica Driscoll, Harp - has been playing the harp for almost twenty years, although her serious study of music only began eight years ago. As a New Hampshire native, she began studying privately with Stephanie Curcio before moving onto The Boston Conservatory, where she worked with Cynthia Price-Glynn and Ina Zdorovetchi. At the Boston Conservatory she earned her Bachelor's degree in Harp Performance (2010). While working at the Conservatory, she performed regularly at the Dana Faber Cancer Ward, helped to organize "WorldFest" a celebration of the Conservatory's diverse performance backgrounds, tutored ESL, co-edited the Conservatory's yearly poetry collection and won the Honors Chamber Award, in addition to being the requested harpist for all the Boston Conservatory's ensembles. Ms. Driscoll continued her education at Carnegie Mellon University as a masters student, where she focused on her solo performance and teaching skills. As the Teaching Assistant for the Carnegie Mellon harp studio, she began teaching college aged students, and branched into teaching privately with a studio that ranged in age from seven to fifty. She graduated in 2012 with her Masters in Harp Performance. Currently, she is the Resident Harpist at The Harp Connection, as well as their Harp Inventory Manager.



Elizabeth England, Oboe


Jessica Popik, Clarinet


Megan Riccio, Horn


Michael Westberry, Bassoon